Resource allocation is a crucial part of project management as the manager is responsible for distributing tasks accurately and strategically to employees so the project can be delivered on time. Although it seems like a super easy task, it requires a lot of calculative skills and planning to put everything in the right place for efficient allocation of roles, resources, and tools.
Mismanagement of resources can lead to a disaster and it can affect employees and clients. 83% of the executives agreed that allocating resources was the toughest task for growth.
In this article, we will learn how to solve resource allocation challenges and what are the benefits of effective allocation.
What is resource allocation?
Resource allocation is simply assigning resources to the project in the most effective way.
Project management is a broad term that involves the right distribution of resources and workload within the budget is crucial to ensure no resources are over or underutilized. 
Resource allocation is a crucial process of effective project management. 
Resources come under three categories:
Tools (software, application, hardware, etc.)

Time (project deadline, task deadlines)

People (employees, clients, managers, workers, etc.)
Benefits of resource allocation
Makes planning easier
Resource allocation gives you a clearer picture of how the budget is being used, how many resources are required, and who is suitable for what task. Resource allocation software enables you to simplify the process and helps you track your resource availability. 
Proper planning ensures that your company will not face any resource allocation challenges and effects.
Improves team morale
Due to poor allocation, many employees and workers feel overwhelmed with the workload. According to a recent Forbes study, 57% of the employees surveyed are experiencing burnout in 2021. And Flexjob's studies state that 76% of employees believe that workplace stress affects their mental health.
These studies show how important it is to allocate resources effectively. Hence, proper distribution of tasks motivates employees and reduces burnout and stress.
Keeps employees on track
Their progress must be tracked when team members are working on the same project. The manager must take regular updates and solve their problems if they have any. The resource allocation process allows you to track the employee progress transparently, and the updated report can then be generated and shared with the client.
This process keeps the employees productive and focused throughout the project.
Predicts plans
Properly structured resource allocation can help you to plan better for future projects as it allows you to know which employee is working on what particular task of the project and how the resources are allocated to different projects.
It helps companies to maintain a proper record, which also prevents the wastage of resources and employee efforts.
The available data can help you prepare for your next projects easily.
Manages team workload
One of the most common challenges employees face is the unmanageable workload. Resource allocation ensures that no employee is overloaded with bundles of tasks and helps to distribute the task most evenly and efficiently.
It keeps a tab of each employee's task list and divides it accordingly. It helps maintain a balance in a team, and the project can be done within the deadline and with desired results.
How to tackle resource allocation problems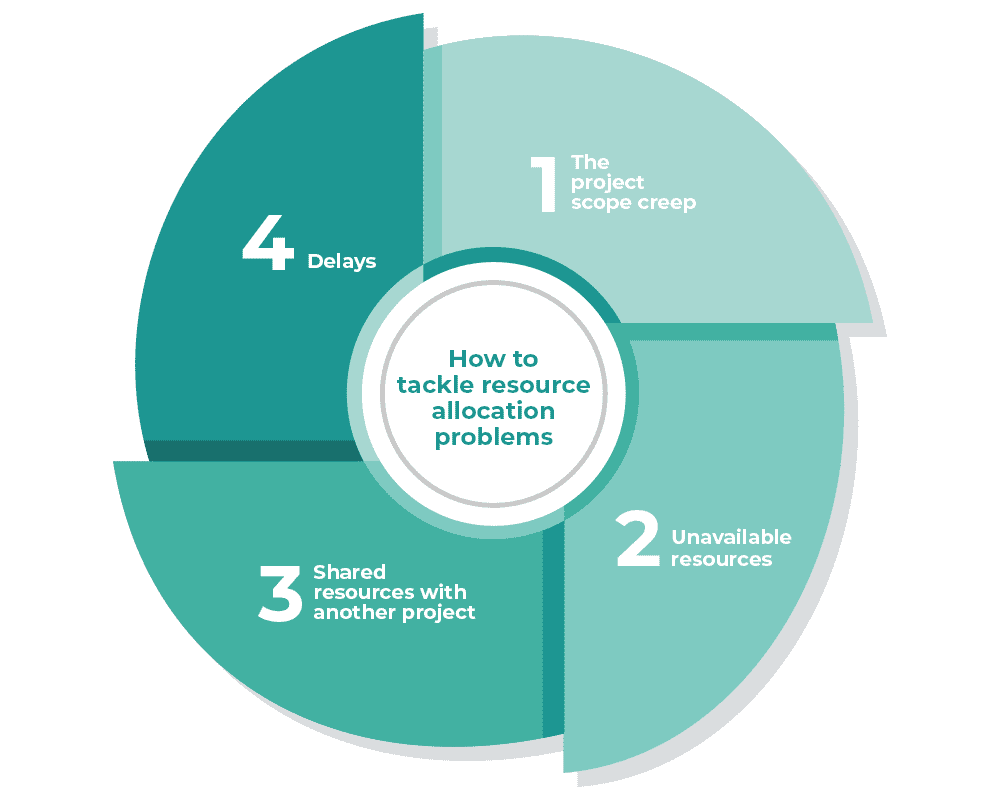 The project scope creep
No matter how well you planned the project and how strategically you distributed all the resources, there is always a chance for stakeholders to make changes in the requirements or it gets miscommunicated.
Now, how can you prevent such resource allocation challenges?
Make sure the requirements are transparent and communicated properly

Develop an end goal

Design a transparent solution that provides clients with complete visibility into every process and task  

Keep track of your employees and progress
Use relevant tools for smooth operations
Unavailable resources
One of the most common challenges of resource allocation comes when the resources get unavailable due to other outside factors. It happens several times when some employees can not be at work due to some emergency or other important system stops working.
Make sure you have a replacement in place or are quick to find a temporary resource. Always keep a backup resource ready in such emergencies. 
Shared resources with another project
Small size businesses often share their resources with other projects. When resources are shared, many kinds of challenges can occur like project bottlenecks.
To solve this problem, distribution should be done in a way that allows you to know about the shortage beforehand. Keep a tab on each employee's workload so they don't feel burned out. 
Delays
Delays can happen out of nowhere. Delays can occur without warning or for a variety of causes. It is also known as scope creep.
But how can companies manage delays?
Here are some ways through which delays can be prevented :
Find a professional and specialist for certain tasks so they can be completed on time

Do not overload employees with too many tasks

Make a flexible work environment so the employees can work whenever they feel most productive

To roll out the project in an efficient way, divide the project into segments and sub-segments with deadlines
Conclusion
The task of allocating resources is a critical responsibility for managers, as it can determine the success or failure of a project. Unfortunately, many project managers tend to overlook this aspect. To ensure proper resource allocation, it is essential to employ appropriate tools that allow teams to assess project availability and required skill sets.